The cute heart-shaped tarts I posted on V-day was something I made for Hitman.  It's from one of my all-time favorite blogs The Art of Doing Stuff authored by the uber hilarious Karen.  She is always so funny and witty.  Take a peek at one of my favorite posts from her and tell me you did not just blow milk (or anything) out of your nose when you get to the picture of her holding the potato.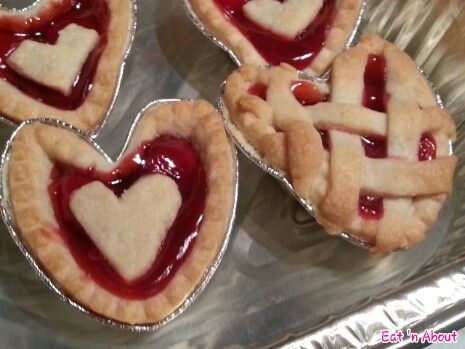 Anyways I came across this post from her last year and it's an easy-peasy recipe (it's really not even a recipe…more an assembly job) for the cutest, loveliest mini heart shaped cherry tarts.
Ingredients
Pre-made tart shells (I used No-Name brand…they were really good)
Cherry Pie Filling
Preheat oven to 375°F
I used the 3″ tart shells, not the mini kind.
Take shells out and let them thaw a bit (about 3 minutes) so that they're malleable.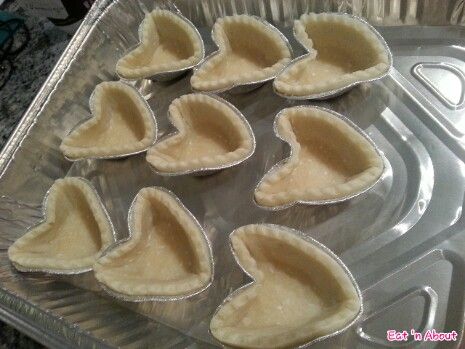 Dent the foil and gently mold each shell into a heart shape.  Then fill with the pie filling.
Karen suggests putting the cherries in first then top with the filling.  3 cherries each should be sufficient.  Don't over fill or else the filling will bubble over and your tartlets won't be pretty anymore =P
Filed under: Dessert, Desserts, Home Cooking, Restaurant Reviews, Snacks, Sweets | Tagged: baking, Dessert, Home Cooking, homemade, Snacks, tarts | 2 Comments »