I remember wanting to visit Coffee Monster for a while now but it had fallen off my radar, but feeling like dessert one night, I googled what's in the area and Coffee Monster popped up.  So AngryRussian and I took a walk there to see what they had to offer at 10:00pm on a Friday night.
I had in mind to get some sort of sponge cake to share.  AngryRussian wanted a drink too, so without much arm-twisting I got one too.
The one with the beautiful heart latte art is my Spanish Latte ($4.75 for a 12oz).  What makes it "Spanish" is using condensed milk instead of regular milk.  Honestly though aside from it being a bit sweeter (even though I asked for half-sweet) I didn't notice any difference…not especially creamy or whatever.  It still tasted good though.
On the right with the debatable design (I said it was a failed heart, AngryRussian, being the good-hearted man he is, gave them the benefit of the doubt and said it was a leaf), was the Mocha ($4.95 for 16oz).  I only had a sip.  It wasn't especially chocolatey either but still was a decent drink.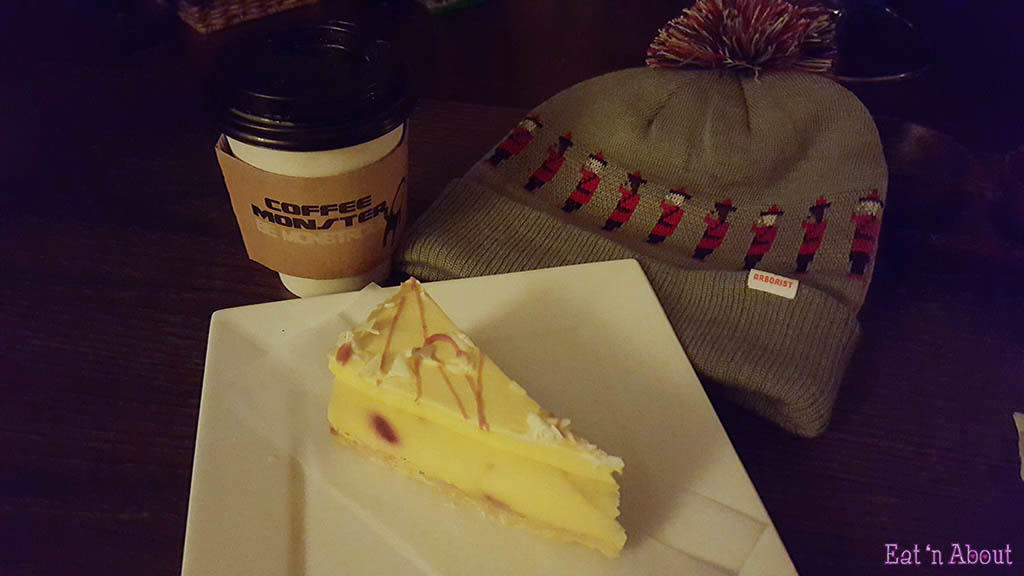 As for the cake selection, there were mostly cheesecakes and a few sponge cakes (Strawberry Shortcake and Matcha Sponge).
The sponge cakes didn't really look appealing, so I switched my attention to the cheesecakes instead.  There were slices, and there were crust-less ones in mason jars.  If you were to get takeout for the mason jar ones, you have to pay a $1.50 deposit which you'll get back when you return.
I picked the Mango Berry Cheesecake ($6).  This was unimpressive and lacked the depth of cheesecake flavor I yearned for.  The cheesecake layer was topped with a weird dense spongey-whipped cream layer.  Overall it had more berry flavor than mango.  And honestly just didn't take like cheesecake, more like a really dense mousse cake, and I loathe mousse cakes =(.  $6 for this was pretty poor value.
I would say Coffee Monster's decor was very nice and pleasing, but that's about it.  Service was also nice and courteous but not especially friendly.
Summary
Reviewer
Review Date
What Was Reviewed
Author Rating