Ever dreamt of browsing the racks of a grocery store and being able to just pull whatever you like off the shelf to try?  I have, and therefore I was supremely stoked to get an invite to Grocery Showcase West 2014.  Livin' the dream!
Grocery Showcase West is an annual trade show held by the Canadian Federation of Independent Grocers at the Vancouver Convention Center downtown.  It is HUGE!  It ran April 6th to 7th and even though we visited on both days we still didn't get a chance to sample everything.  GSW is not open to the public so Wendy and I felt very fortunate to get a media invite.  That means we can share with you our top 10 picks for the best new grocery products of the year with our…
Top 10 Grocery Items 2014
Some of the following products are already on store shelves and some are coming soon. All are highly recommended.
#1: SEVA Maple Water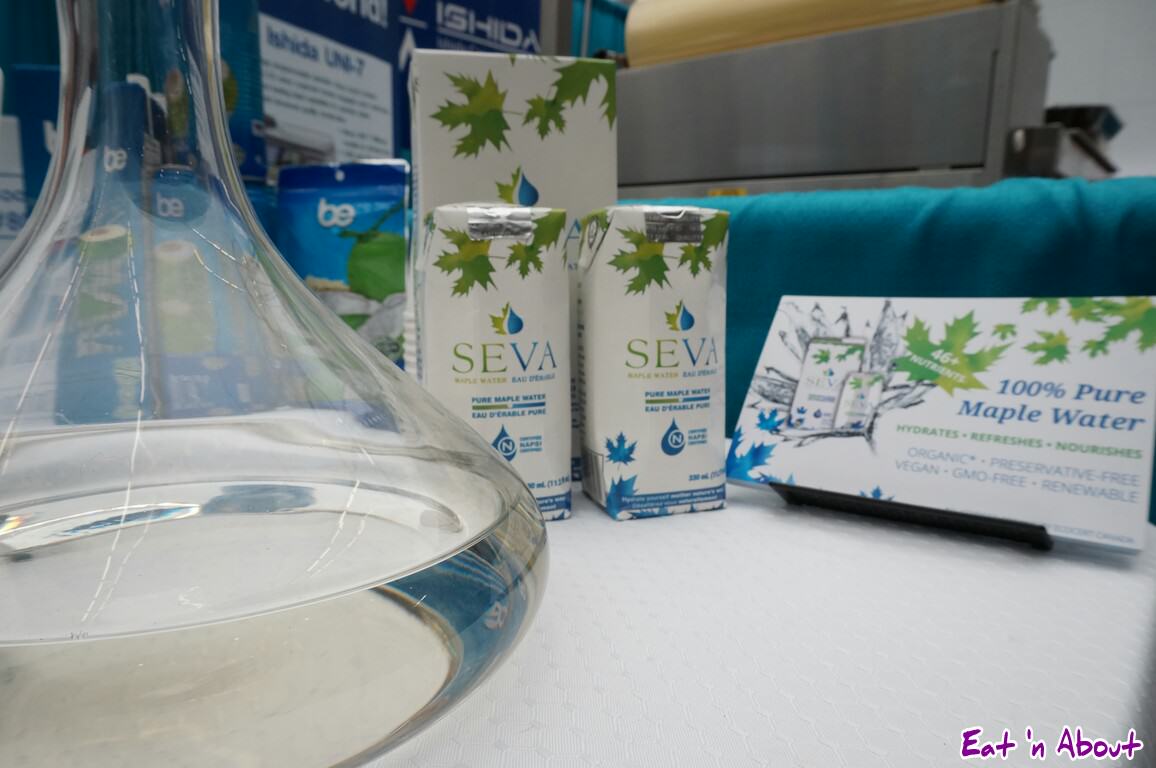 SEVA Maple Water could just be "the next big thing".  We all know what a big splash coconut water made in the healthy drink market, right?  Well imagine a cleaner, lighter version with 46+ nutrients and 100% Canadian content and you have yourself a winner, folks!  Roughly half the sugar and one-third of the carbs and calories of coconut water, too.  The taste is very refreshing (it is after all 97% water) with a hint of maple flavour.
Hard to believe, but see that water-like substance above?  That's what 100% pure maple sap looks like.  According to SEVA, we've all been conditioned by an unrealistic ad campaign that ran back in the '80s-'90s showing sap dripping from maple trees.  In reality it gushes out in a watery geyser.  Maple syrup is the treated product; maple sap is the eminently drinkable raw form.  Why so long getting SEVA Maple Water to market if it's been there all along?  The answer is that SEVA Maple Water has been in development for 7 years, mainly due to issues with getting it into a carton that has a reasonable shelf life.
#2: Preferisco Tartufo Salami | Truffle Salami


Bosa Foods are selling one of the tastier pieces of charcuterie I've had the pleasure of wrapping my tongue around.  Their Preferisco Tartufo Salami has a strong earthy flavour—they were definitely generous with the truffles here—but not so strong as to overpower the taste of the meat.  Texture is chewy and not too dry.  Preferisco Truffle Salami is a deliciously gourmet addition to any charcuterie plate.
#3: Frozen Coconut