A friend of mine has been pointing out lately the lack of Filipino food on our site, so this one's for you pandeSally.  Fliptop Filipino Fusion food truck (Phew!  Try saying that five times fast.  Or just once for that matter!) came onto our radar a month or so ago, but since they tend to move around a fair bit we haven't been in the right place at the right time until yesterday.
"Fliptop" is a bit of a play on words coming from the Filipino's nickname for themselves as "flips".  This term once held some racist undertones but it seems to have been fully adopted into the culture, to the point where it doesn't seem to have any negative connotations anymore (yay!).  In fact it may just stand for Fine Looking Island Person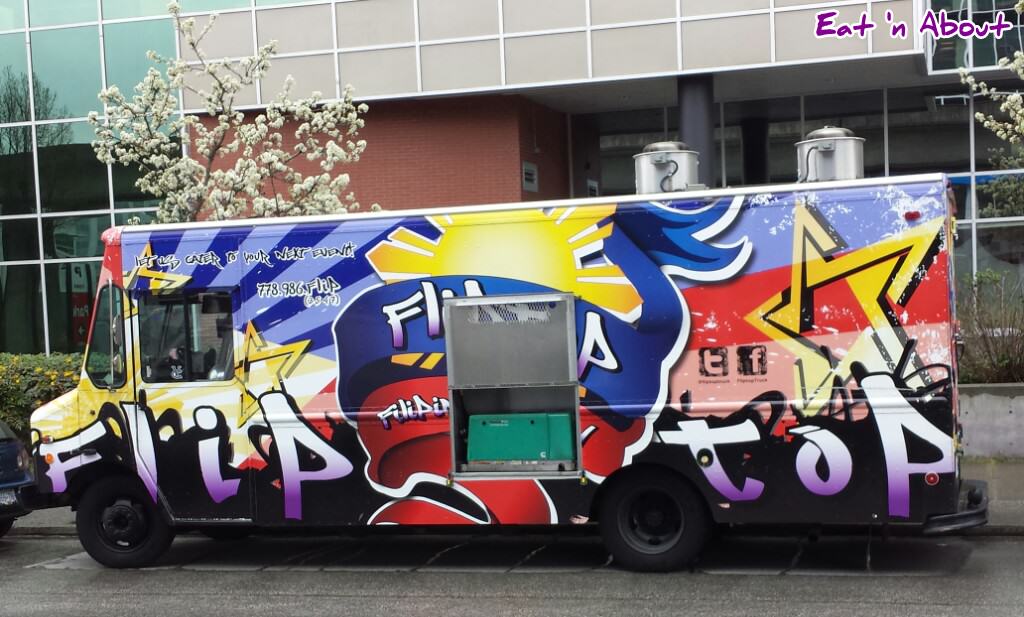 Anyway, we were on our way downtown around lunchtime when Wendy spotted this brightly coloured food truck on Terminal near Main Street Skytrain, obviously inspired by the flamboyantly painted jeepneys of the Philippines.  Realizing it was Fliptop, I cranked a U-ey and parked at the college across the street.  I've been including service-side views of food trucks in my Food Truck Friday posts recently, but this one's art deserves to be shown in all its eye-popping glory.
Fliptop's food truck was a welcome spot of colour on a grey and miserable day, and the operators' sunny disposition also helped chase away those Raincity blues.  We were greeted in a warm and friendly manner and enjoyed chatting with the guys while they prepared our food.  They definitely get an A+ in the customer relations department!  That's the problem with reviewing food trucks, most of these guys and gals are so darn friendly that it's tough to be critical of the food.  But I'll do my best to give an honest review: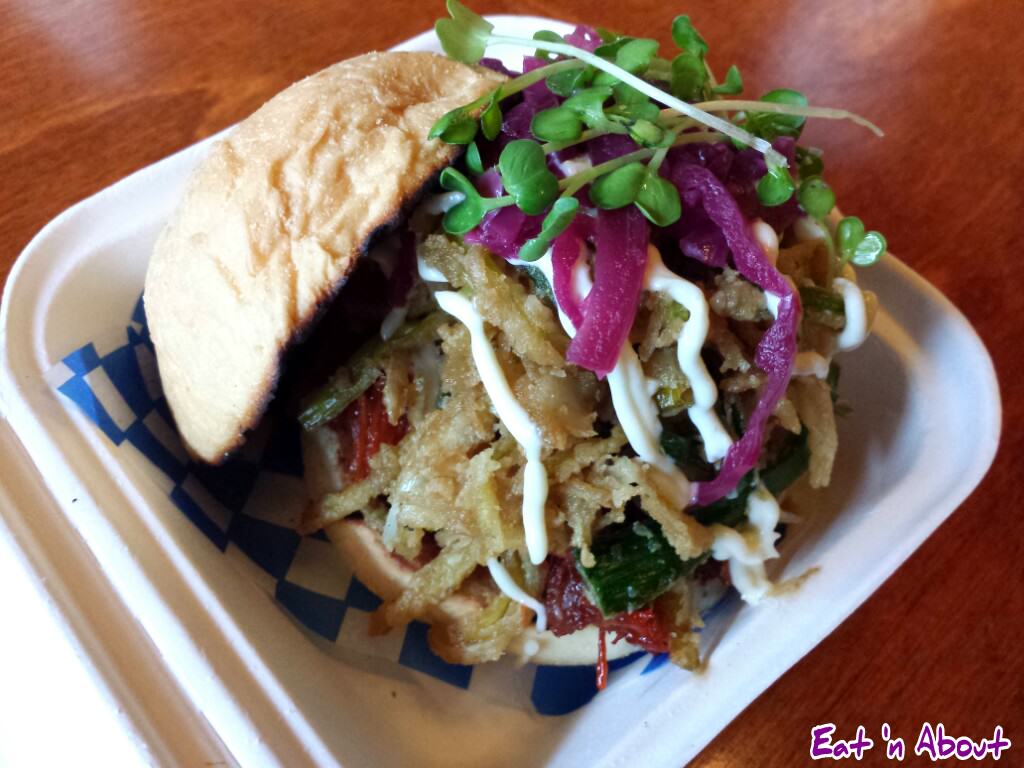 After a couple of great experiences with pulled pork food truck offerings I went with Fliptop's Pulled Pork Sandwich ($8).  It's served on a pandesal bun, a sweet white bread that many Filipinos go nuts over, but I personally don't see what the fuss is about.  This one was a bit burnt, but not to the point of being inedible.  The toppings you see here are crispy deep-fried leeks, roasted garlic aioli, micro greens, and Achara made from pickled cabbage and green papaya.