For AngryRussian's second ever Dine Out experience (my third this year) we settled on Chicha.  They are offering a $30 menu in a tapas-sharing environment, where each diner got to choose 1 appetizer, 2 entree tapas, and 1 dessert.  Our bar-top quickly got crowded as most of the dishes except for the desserts came out almost all at once.
Our first appetizer was the Local Seafood Aji Amarillo Chowder.  It had fish and mussels, as well as cubes of red nugget potato.  The chowder was thick as it should be and creamy and rich.  As expected there were more potatoes than seafood which made it hearty.
The next appetizer (we shared everything as usual) was the Plantain Chips served with a trio of sauces (aji amarillo chili aioli, rocoto chili aioli, and huacatay sauce).  AngryRussian really like plantain chips and he enjoyed these also.  The flavor of the sauces were a bit hard to discern but the green one tasted fresh and maybe cilantro-y.  The chips were thickly cut and mostly crispy, although some pieces were under-fried.
The first of four entree tapas was the Chalaco Ceviche.  It has albacore tuna, sockeye salmon, pacific ling cod, scallops, and prawns in a green tigre de leche marinade, with fresh oranges and topped with rocoto chili dusted calamari.
The ceviche was fresh and citrusy and laid on a bed of fresh crunchy pea shoots.  Wished there were more ceviche and less pea shoots though.
The Aji Amarillo Pollo Anticuchos (aji amarillo chili marinated chicken breast) were chicken skewers.  As they were breast meat they weren't as moist as I wanted but they were in no way dry.  They could've been marinated a bit more though as I found the meat itself quite flavorless.  The skewers were served with brown buttered potato and choclo savory peruvian corn (a very large corn kernel), and the same trio of sauces as the plantain chips.
The Costillas de Cerdo (orange and panca chili glazed baby back ribs with double smoked bacon, red nugget, and green bean potato salad) was very tasty.  The ribs were very tender and could be teared away from the bone with a fork.  AngryRussian says the sauce reminds him of this dish his mother used to make called "Saucy Chicken" lol.
The salad added a subtle acidity whose purpose was probably to cut the fattiness of the ribs.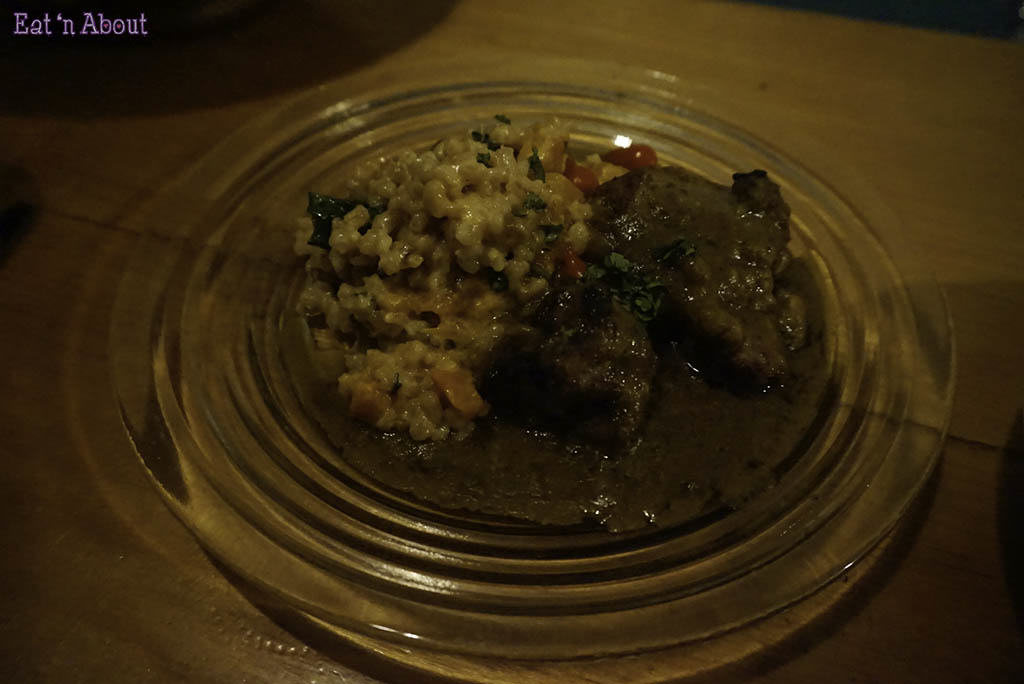 Last entree tapa was the Dark beer and cilantro slow braised pork cheeks and it was easily my favorite dish of the night.  It was served with creamy cubes of butternut squash and kale barley risotto.
Man was the sauce good!!  It was super cilantro-y and I enjoyed sopping it up with plantain chips.  These pork cheeks were also tender and soft and fatty.  SO good.  The kale barley risotto was savory goodness.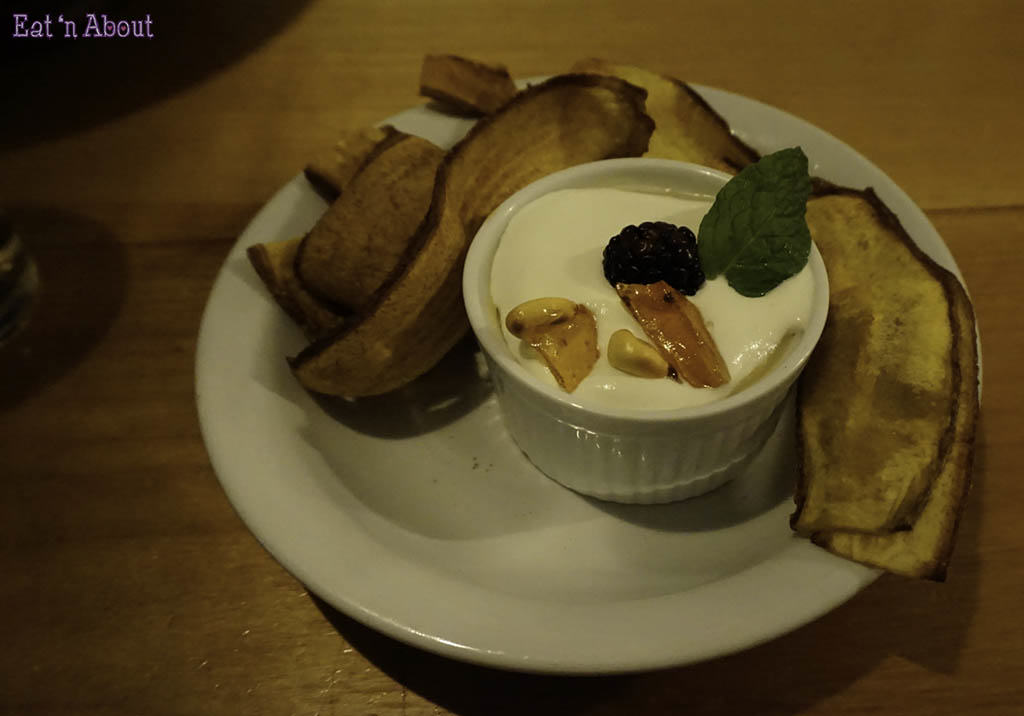 First dessert was a Pot de Creme of white chocolate, lucuma fruit and lime .  It was topped with candied cancha corn, and sugared plantains.
I found the pot de creme grainy and not very smooth.  I guess I expected this to be similar to a panna cotta but it was not.  The creme part was sweet perfectly though and the plantains were dusted with cinnamon sugar.
Our other choice of dessert was the Peruvian Caramel Shortbread cookies filled with gooseberry and orange curd.  These cookies are also known as "alfajores" (I first tried some at Salteñas), a latin shortbread cookie.
The cookies were bttery and crumbly.  The caramel filling lacked any citrus flavor though.
In the end although I did enjoy dinner here, I think Chicha was a bit of a hit-and-miss for me.
Summary
Reviewer
Review Date
What Was Reviewed
Author Rating